Chamber Community Giftcard – Merchant Info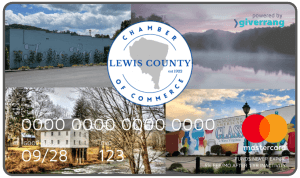 Interested in getting a boost in sales by becoming an approved merchant, contact the Chamber at (304) 269-2608 or lcinfo@lcchamber.org.
FAQS
Is there a fee to participate?
Absolutely none. If you're an active current member of the Lewis County Chamber of Commerce, this service is yet another perk of your membership.
Does the card work with my existing point-of-sale (POS) machine?
Yes! The Chamber Community Giftcard is Mastercard branded so it is accepted the same as any credit or debit card. No training required.
Does the POS require special configuration or backend software?
No additional software is required to accept the card. If your point-of-sale / credit card machine accepts Mastercard then you can accept the Chamber Community Giftcard simply by swiping or manually keying the numbers, like you do any other card.
How do I accept eGift cards?
eGift cards must be manually keyed into your POS machine. Ask the customer to read or present you with the eGift card numbers as you would a phone order. Manually key the card numbers into your POS terminal. Process the transaction.
We strongly encourage you to inform your staff to expect the eGift payment type so that there is no confusion when customers show up with a picture of the card on their phone. As long as you and your team know to expect this payment form everything will go smoothly.
What are the redemption fees for accepting the Chamber Community Giftcard?
You would pay the same fee you currently pay your payment processor for accepting any Mastercard debit card. Depending on the agreement with your payment processor, there may be an additional cost for accepting Card Not Present (CNP) transactions such as an eGift card. Typically this fee is less than 1%. A small price to pay for earning new customers!
Can I accept the Chamber Community Giftcard if the customer is not physically present?
Yes. If your customer is not physically present, simply have them give you the 16-digit card number, expiration and CVC code over the phone (or in a secure manner) and enter the numbers into your POS terminal.
What if a customer wants a refund?
Simply refund the amount the customer paid for with their gift card back onto their gift card.
What types of businesses can participate?
The gift card fulfills the Chamber's focus on supporting local businesses including restaurants, retailers, attractions, service providers, and more! The only requirement is that the business is an active Chamber member.
Do I need to have a storefront or physical location to participate?
No. Online and at-home businesses are welcome too!
Are any businesses not allowed to participate?
Per our agreement with Giverrang who manages the program, this is the list of prohibited businesses.
How will the program benefit service-based businesses?
Service based businesses, like any participating business, are going to receive exposure as a location that can accept the Chamber Community Giftcard. If your business is featured on the program web page and other marketing materials, you will benefit further. This puts your business in position to be seen or discovered for the first time. Plus, whoever has a gift card will have a limited choice of local businesses to spend their card at, so your odds of capturing that business increases because there is less competition. Once you create a relationship with a gift card holder you have a chance to impress the customer to drive loyalty business and be referred to by that customer to their contacts.
Will you market merchants in the program to customers?
Yes! All merchants in the program are eligible to receive a listing on our gift card page at https://giverrang.com/gift-card/lewis-county-wv/.
Will the Chamber Community Giftcard compete with my own gift card?
No. The Chamber Community Giftcard is a way to build relationships with current customers as a well as attract new customers. This is true because many gift card purchasers are unsure of the best local businesses to buy from, or don't quite know the gift recipient's tastes, so an all-in-one gift card  solution will appeal to them. It allows these purchasers to support local businesses without the stress of worrying where to buy from.
When a gift recipient receives a Chamber Community Giftcard they will enjoy the chance to spend their gift at lots of local options. The recipient will then go through a discovery process to find out where to spend the card and it is at this moment they will see and learn about your business and choose to spend with you. It is a great opportunity to get in front of and engage new customers, and also re-ignite relationships with customers who may not have visited in some time.
Should we give change or cash back to customers?
No. The Chamber Community Giftcard should never be exchanged for cash under any circumstances. Any remaining balance left on the card can be spent in a future transaction.
What's the average value of each gift card?
The average value of each gift card is $50. However, studies indicate that the majority of cardholders overspend by 50% more than the value of each gift card (source: Savvy). So a $50 average purchase means a $25 overspend. Others claim it is 40-120% more (source: Stored Value Solutions). Bottom line is merchants that accept the card will reap these overspend rewards.